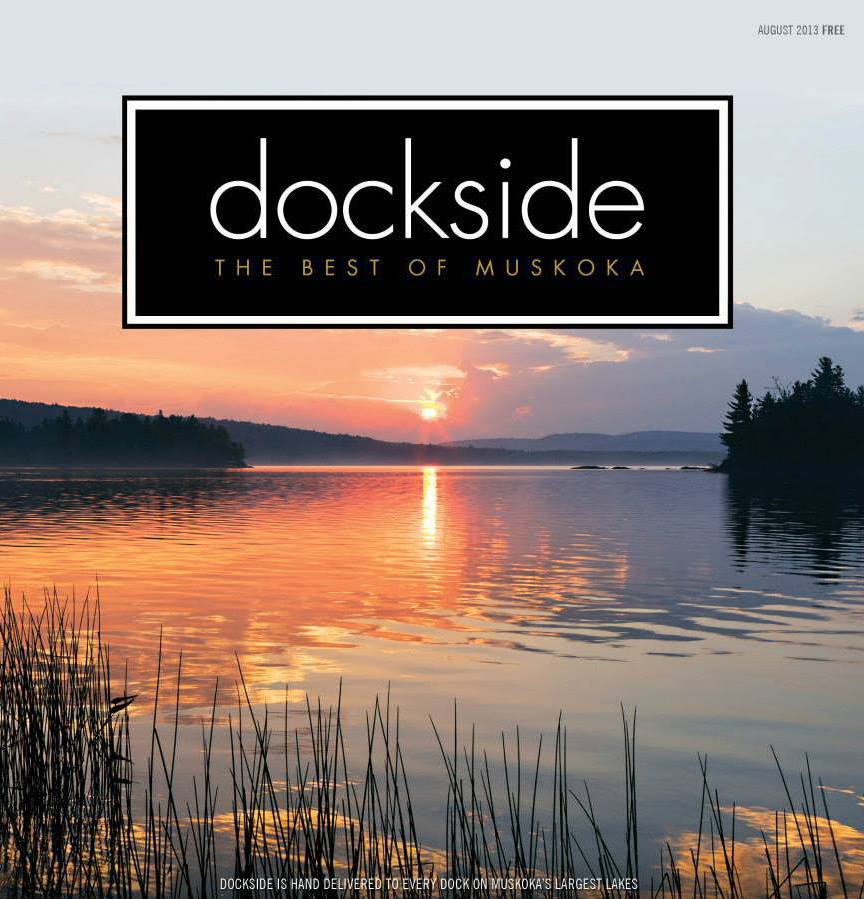 Regular inspections and treatments can keep the great outdoors where it belongs: outdoorsBy Andrew Wagner-Chazalon – For Dockside Magazine
As summer winds down and autumn approaches, all of nature begins to shift gears. It's a beautiful part of the life cycle in Muskoka, and cottagers get to enjoy a close-up look at the annual pageantry.
But what do you do when nature gives you a bit too much of a close-up look, as migrating mice start treating our homes and cottages as if they were enormous winter getaways?
The fall mice are only doing what comes naturally, says Mark Sampson, owner of Muskoka Pest Control. "They're looking for food and shelter," he says. "What we need to do is deny those things to them."
The best way to deal with a pest problem – whether it's mice, carpenter ants, bedbugs or any other creature – is prevention. "A single female mouse can produce 40 babies a year," Mark says. "It's really a lot easier to keep them out of the cottage than to get rid of them once they're in."
Mark advises regular inspections to look for ways that mice might enter the cottage. Pipe and wire openings, door seals and vents are all potential entryways and should be properly sealed.
Keeping lumber and firewood off the ground and away from the building will discourage mice from nesting nearby. So, too, will trimming overgrown vegetation against the building.
Inside the cottage, cleanliness is vital: clean under appliances, keep counters clear of food, and store all dry food – including pet food and bird seed – in sealed containers.
Hiring a professional to inspect your property will ensure pests of all kinds are kept out. Muskoka Pest Control offers a Cottage Care Program, with inspections and treatments twice annually – once in the spring or early summer to take care of insects such as carpenter ants and spiders, and once in the fall or winter to treat for rodents. Organic treatments are available.
If you do encounter a pest problem and wish to treat it yourself, Mark recommends buying supplies from an experienced professional. "If somebody wants to take care of pests themselves, that's fine," he says. "We have a retail store, and we can offer you the best products and advice to take care of the problem quickly."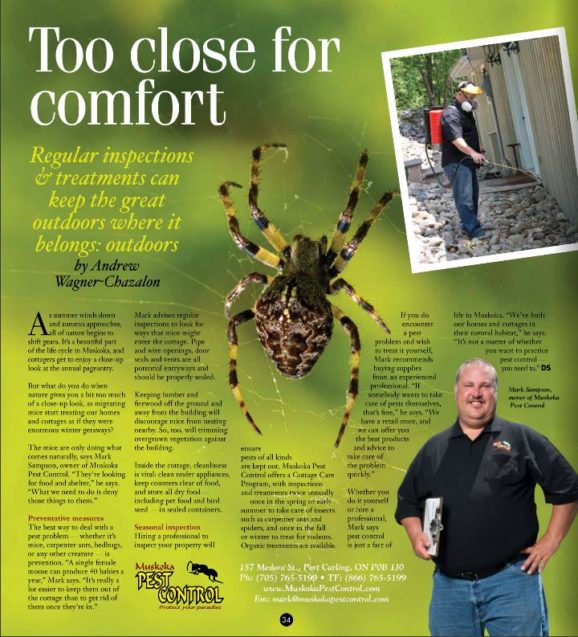 Whether you do it yourself or hire a professional, Mark says pest control is just a fact of life in Muskoka. "We've built our homes and cottages in their natural habitat," he says. "It's not a matter of whether you want to practice pest control – you need to."
We know Pests! We know Wildlife! Call the local experts!
Contact Us to arrange Service today!
Muskoka Pest Control has been keeping your home, cottage and business pest free for almost 30 years! Serving all of Muskoka and surrounding areas, we specialize in Pest Control, Pest Removal, Wildlife Control and Retail Products. We specialize in pests such as Carpenter Ants, Bed bugs, Wasps/Hornets, Mice, Spiders and Wasps.