Prevention is key in Pest Control
Keep the ants from marching in with construction pre-treatment
Carpenter ants aren't just pests. They can do significant damage to a home or cottage. That's why it's a good idea for anyone who's building or renovating to take steps in advance to keep them at bay. Prevention is key in pest control. That's a fact!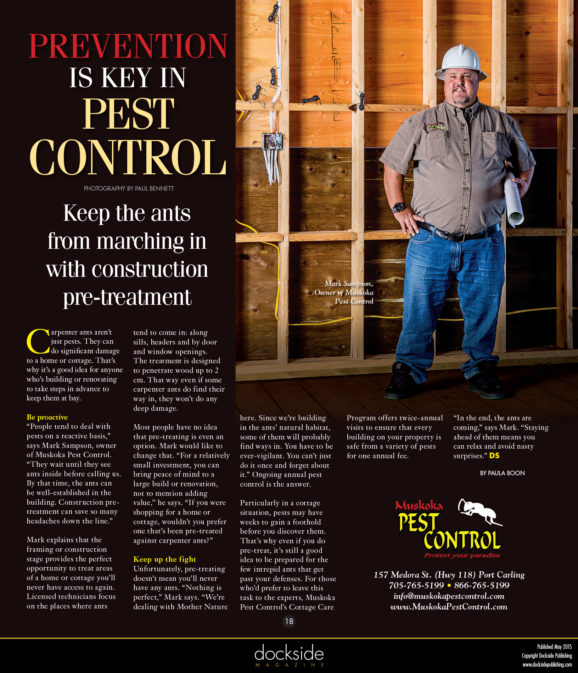 Be Proactive
Keep up the fight
Be Proactive
"People tend to deal with pests on a reactive basis," says Mark Sampson, owner of Muskoka Pest Control. "They wait until they see ants inside before calling us. By that time, the ants can be well-established in the building. Construction pre-treatment can save so many headaches down the line." Mark explains that the framing or construction stage provides the perfect opportunity to treat areas of a home or cottage you'll never have access to again. Licensed technicians focus on the places where ants tend to come in: along sills, headers and by door and window openings. The treatment is designed to penetrate wood up to 2 cm. That way even if some carpenter ants do find their way in, they won't do any deep damage.
Most people have no idea that pre-treating is even an option. Mark would like to change that. "For a relatively small investment, you can bring peace of mind to a large build or renovation, not to mention adding value," he says. "If you were shopping for a home or cottage, wouldn't you prefer one that's been pre-treated against carpenter ants?"
Keep up the fight
We know Pests! We know Wildlife! Call the local experts!
Contact Us to arrange Service today!
Muskoka Pest Control has been keeping your home, cottage and business pest free for almost 30 years! Serving all of Muskoka and surrounding areas, we specialize in Pest Control, Pest Removal, Wildlife Control and Retail Products. We specialize in pests such as Carpenter Ants, Bed bugs, Wasps/Hornets, Mice, Spiders and Wasps.