Is your Car at Risk of Mice Damage from chewed Wires?
If you store your car, your truck, or any other vehicle with wiring such as lawnmowers etc., then you should think about rodent protection. Over the years I've seen more instances of Mice chewing wires, nesting in engine compartments and all the related issues that go along with that. Many of us get busy in the fall and we can be a little short and overlook important things when we winterize things. I myself have been guilty of that, but let me assure you, it's worth the time and money to protect these things. Cars have gotten significantly more advanced and the wiring is extensive in vehicles today. If wiring damage occurs, it can be a nightmare to correct. I read a recent article I'll include below from KGW out of Portland and it got me thinking that this is an issue that I hadn't considered before. As we move towards greener solutions for things (Which is good), The use of Soy based wiring covers on many hybrid vehicles is an attractant for rodents. Read the article below or link over and watch the vid.
Can you Prevent Wiring Damage from Mice?
There is no foolproof solution for anything when you deal with living things. There is always the possibility of something you can't control happening, however remote a possibility. That doesn't mean you can't stack the odds in your favour. The mice activity will vary year to year, but if you stay the course, you reduce the possibility of an established rodent problem from happening. Each fall, as the temperatures start to drop, mice look for places to nest. Place baits or traps (Every situation is different) in  your garage, shed, under your stored vehicle, in your stored vehicle. Wherever you can safely put some measure of control. ( Always follow label directions and use Tamper resistant stations).
We've got you Covered
Let the experts at Muskoka Pest Control help you keep the Pests where they belong…..Outside. Call us year round for a consultation or service.
Article from KGW
PORTLAND, Ore. — Mary Rait loves her 2008 Toyota Prius.  But apparently, so do rats and mice.
They got under the hood of her hybrid vehicle and chewed through the electrical wiring.  These pesky rodents caused $800 worth of damage.
"I'd never heard of it before," said the Northeast Portland woman.  "But once I got over that shock, I Googled it and found a bunch of different stories about people having these repeated issues." Read More…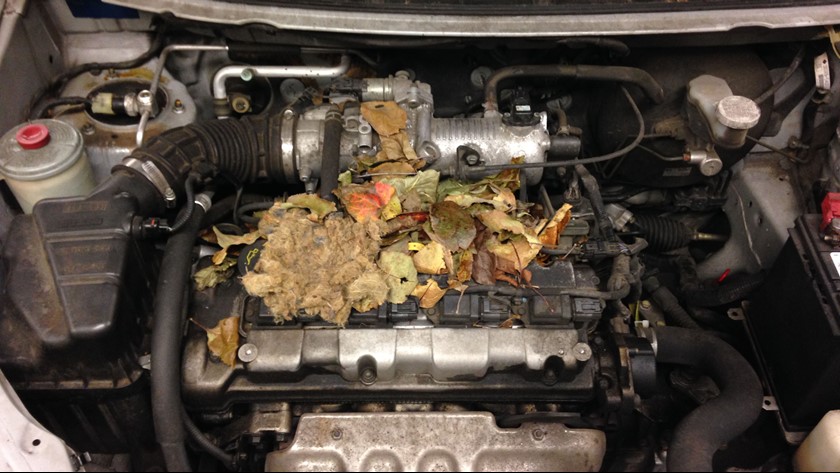 We know Pests! We know Wildlife! Call the Local Experts!
Contact Us to arrange Service today!
Muskoka Pest Control has been keeping your home, cottage and business pest free for almost 30 years! Serving all of Muskoka and surrounding areas, we specialize in Pest Control, Pest Removal, Wildlife Control and Retail Products. We specialize in pests such as Carpenter Ants, Bed bugs, Wasps/Hornets, Mice, Spiders and Wasps.